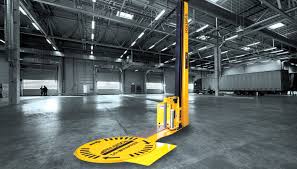 Stretch Tape Machines
The revolutionary stretch tape wrapper – changing how pallets are wrapped.
The stretch tape wrapper offers a real alternative to stretch film for high-speed pallet wrapping. For many industries stretch tape has now become a preferred option for pallet stabilisation over conventional stretch film.
The stretch tape wrapper has been delivering superior pallet holding for many industries over the past 20 years.
Allowing the goods to be contained without sealing them in reduces condensation and damage to perishable goods, and the properties of the stretched tape reduce the vibration of the goods during transport.
Highlights
95% Waste Reduction by volume versus stretch film or netting
100% load stabilisation
Product ventilation protects perishable goods
Applications
Dairy and other food manufacturing
Fruit and Vegetable Growers
General Freight
Ask our team how we can help